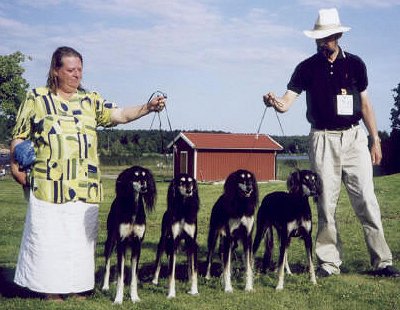 About us
In the middle of the 70's I met Elizabette Kallin who now is my wife. I fell deeply in love with her, and also with her Boxer, who was a happy and lively dog, but extremely obedient and never stole food.
This happened in Stockholm and when I had finished my studies it was decided that we would move to Norrbotten where I had gotten a job and Elizabette could get a job at the Arbetsmarknadsverket where she then worked. She wanted us to get another dog, of a breed called "Saluki", a breed I then had never heard of. She took me to an animal fair at Älvsjö Mässcentrum in Stockholm and delightedly showed off the "new" breed.
Astonished I looked at a number of long-legged skinny dogs that showed no interest at all for me and I responded to their lack of interest by explaining that only due to great love for my future wife could I consider adding one to the family. So we moved to Kalix in the north of Sweden and in the luggage was a one-year-old Saluki male, Attis (by Enyar out of Ibinores Litricia Fatima), a dog given to Elizabette by her good friend Kristina Humlebo as a moving away gift. Kristina was also the breeder of Attis.
Attis soon showed all the characteristics that make the Salukis so wonderfully obnoxious. The word "Here" didn't exist, at least it lacked all meaning for Attis. When he was off the leash he extended his "walks" to a great number of hours during which his distressed master and mistress were looking for him. Indoors he usually occupied the most comfortable couch between his excursions to the kitchen to check what there was to steal. It takes a number of dinners to learn to place the food out of reach for a Saluki. Despite – or maybe because – his characteristics Attis founded our love for the Saluki. Kalix wasn't far from Boden, Elizabettes hometown, and we spent many weekends with her parents. During a walk with Attis we were charged by a wildly shouting lady, who showed to be Birgitta Harg (formerly Strandborg), the owner and founder of kennel Khalils and a Saluki-breeder since many years. She was planning a litter out of Int & Nord Ch Khalils Bizette, owned by Martin and Solveig Salander. The sire was the Skoglund family's Int & Nord Ch Schiram Ibicus, the so far most winning Swedish Saluki. We had planned to buy a bitch, but since we lived in an apartment Birgitta talked us into taking a male and so Fin Ch Khalils Ismet came to us. Ismet too cultivated some character straits not unlike Attis' and walks with these gentlemen could end any way. One of the more interesting ended with a wild hare-hunt over the military shooting field in Boden where the artillery regiment just had marked a number of dud grenades that would be detonated later. Luckily the dogs didn't cause the grenades to explode. When Ismet was just under one year old we moved to Boden. Birgitta Harg still had Ismet's sister Khalils Ibiza. Since she also had Khalils Ishiba she allowed us to buy Ibiza, a marvelously beautiful bitch who in a short time became International and Nordic champion and also – like her brother – was a successful racing dog.
Dan Johansson, kennel Dervisch, lived in Boden at that time and had a very interesting litter out of another one of Birgitta's bitches, Khalils Harima, mated to – also from Birgitta's breeding – S & Fin Ch Khalils Fayid. After a visit – out of curiosity – to see the litter Elizabette fell for the remarkably sweet Dervisch Cherazade and after some persuasion she also ended up with us.
Ibiza had by now become International and Nordic champion and was considered so good that she should be bred. Since we weren't planning to breed ourselves we persuaded Birgitta to breed Ibiza. Unfortunately Birgitta got a divorce and moved to a small apartment in central Boden. This made future breeding impossible for her. Therefore we decided to breed Ibiza ourselves and as sire we chose Int & Nord Ch Baklava's Ahsan-Min. This because his father – Int & Nord Ch Sedeki Hamah – was too old to use as stud. So our first litter, the I-litter, was born. It consisted of ten puppies. A closer presentation of the I-litter can be found elsewhere in these pages, here we will only mention the firstborn, born in the car on the way to the vet – Int & Nord Ch Khalils Ibn Ibiz. As an omen I should mention that the litter was born during the Skokloster weekend 1984.
We had planned that Ibiza would be bred once and then we'd stop breeding. But Dervisch Cherazade – Zadi – had now become so good in conformation and so successful in shows that we decided to breed her too. As sire Int & Nord Ch Ben Huris Wadj Karmaz, owned by Christer Sjöström and Inger Edling in Umeå, was chosen. Zadi – who herself was white – had one white and five black grizzle bitches. All six eventually became champions.
With this our breeding had started, and another litter out of Ibiza, Zadi and a litter out of S & Fin Ch Silhuetts Nefertiti followed. Birgitta Harg had decided to discontinue her breeding and kindly allowed us to take over the kennel name Khalils.
Since then our lives has consisted largely of Salukis, and in later years, Afghans and Whippets. We have been all over Sweden – and also Finland and Norway – at dog shows, we have competed at racing and Lure Coursing. We have had great successes, successes that was crowned 1999 when we were awarded the Hamilton plaque – the finest award a Swedish dog breeder can get.
Our Salukis has meant so tremendously much to us. Apart from a rich free time filled with dog walks, shows and competitions we have had the privilege to connect daily with these wonderful dogs. We have met people from most continents and made friends around the world. We have made travels we otherwise wouldn't have done. Our wonderful Salukis have made us read history, religion and philosophy, all to try to understand their history.
Our Salukis – and the other dogs – have meant a lot, but the success at shows and competitions is not the most important part, but to feel part of the many thousand-year-old tradition of breeding that has kept the Saluki so that we modern people can experience this wonderful antique hunting dog. We hope that we with our breeding has given joy to others and given others the ability to feel the respect you experience when you get acquainted with the Saluki and it's history.
You are always welcome to contact us kontakta oss in any way, by letter, phone or email.